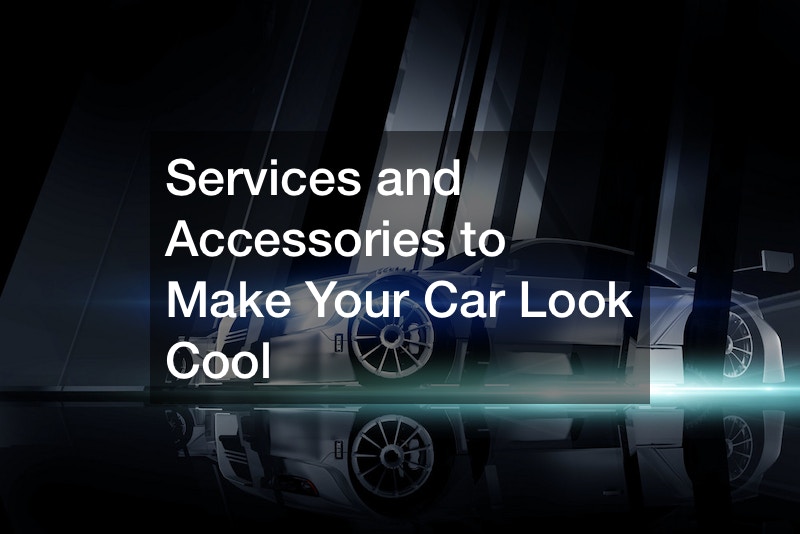 Your car is a reflection of your personality. It says a lot about your style and makes a statement about who you are. Unfortunately, many people's cars don't make the statement they want. They're too common, too boring, or too run-down.
You don't have to drive a luxury car to make your car look cool, though. From simple professional services that repair and polish your car to more elaborate mods like custom paint jobs and wraps, there's no shortage of services and accessories to make your car cool and give it that extra edge.
So, how can you be sure you're making the best impression when you're driving around? Don't worry; we've got you covered. Read on for our top picks of services and accessories to make your car cool:
1. Additional Physical Protection
Your car is your prized possession. You maintain it, keep it clean, and style it to your taste. But what about additional protection? There are several ways to do this, but we'll talk about two in particular: car detailing and car coating.
Car detailers are, in short, magicians! They will make your ride look like it just drove off the car yard after they work their magic. A good car detailer will pay attention to every little detail, from the paint to the tires to the interior.
Car coating is another great way to add extra protection to your car. It's a clear film applied to the paint and acts as a barrier against scratches, dirt, and other things that can damage your paint.
So, if you're looking to add some extra protection to your car, and make it look cool at the same time, consider additional physical protection options like car detailing or car coating.
2. Additional Financial Protection
Your car is a big investment, and you want to protect it. That's why you buy insurance. But what if your insurance doesn't cover everything? That's where additional financial protection comes in. For example, classic car insurance is a great option for those who own classic or antique cars.
Classic car insurance is usually cheaper than standard car insurance and offers special benefits like agreed-value coverage. This means that your car is insured for its appraised value in the event of a total loss.
Another way to financially protect your car is to purchase extended warranties and service contracts. These can cover repairs after your manufacturer's warranty expires and can be a valuable way to budget for future expenses.
No matter what type of financial protection you choose, it's important to research and compare different options before deciding. By taking the time to do this, you can be sure that you're getting the best coverage for your car.
3. Repaired and Functioning Components
One of the best ways to ensure your car is running properly is to keep up with routine maintenance and repairs. This means getting regular oil changes, checking your tire pressure, and ensuring your brakes are in good working order. If you wait until something breaks to fix it, you could be facing a much more expensive car repair bill.
In addition to routine auto repair and maintenance, you can do a few other things to keep your car looking good. For starters, you'll want to ensure that your car's components are in good working order. This includes parts like your headlamps, taillights, and mirrors. Not only do these things make your car look more stylish, but they also help you stay safe on the road.
Another way to make your car look cool is to invest in some cool accessories. There are tons of different car accessories on the market, so you're sure to find something that fits your personality and style. Some popular car accessories include custom wheels, grilles, and spoilers.
So, if you want to make your car look cool, don't forget the importance of routine maintenance and repairs. In addition, be sure to add a few accessories to make your car cool.
4. Camping Trailers
When you're out on the open road, there's nothing quite like bringing your own home with you – and that's why camping trailers are on our list of accessories to make your car cool. They're perfect for road trips and vacations and come in all shapes and sizes to fit any budget.
Not only do camping trailers make your car look cool, but they're also practical. They give you a place to sleep when you're on a long road trip and can also be used to store gear and supplies.
If you're not into the idea of owning a camping trailer, no worries – you can always rent one. Car trailer rental is a great option if you only need a trailer for occasional use or want to try out different types before buying. Whichever route you choose, adding a camping trailer is a surefire way to make your car look cool.
5. Legal Representation
When it comes to services and accessories to make your car look cool, there are many options. But one thing that's often overlooked is legal representation. While it might not make your car look any cooler on the outside, having a good lawyer can make your life a lot easier.
According to Statista, over 4.5 million passenger cars were involved in U.S. traffic crashes in 2020. That's a lot of potential tickets and a lot of potential legal trouble. But having a good lawyer on your side can help you avoid all of that.
If you've had the unfortunate experience of being in a car accident, you know firsthand that dealing with insurance companies and getting repairs can be a real headache. But if you have a good car accident attorney, you can rest assured that you're in good hands. Your attorney will deal with the insurance companies for you, and they'll also help you deal with any other legal problems that might come up.
If you want to make your car look cool and your life a lot easier, ensure you get good legal representation.
6. Accessibility Equipment
Accessibility equipment can range from simple modifications to full-blown conversions. But no matter your needs, there're accessories to make your car look cool while still remaining accessible.
If you have a disability that makes it difficult for you to drive, you may be eligible for a handicap-accessible car. These cars have been adapted to make it easy to get in and out. They also come with various features that can make driving easier.
Several aftermarket products can also make your car more accessible. This includes hand controls, ramps, special seating, and a car wheelchair lift. A qualified mechanic can install these products, which makes a world of difference for people with disabilities.
No matter your needs, there're ways to make your car look cool while still being accessible. With a little bit of research, you can find the perfect solution for you.
7. Spare Parts
When making your car look cool, consider adding some unique and stylish spare parts to make it stand out. For example, if you have a lot of chrome on your car, you might want to add a chrome exhaust tip. Or, if you have a sporty car, you might want to add a spoiler. There're many ways to trick out your car with spare parts, and the possibilities are endless.
So where can you find these parts? One great option is to look for them from used car parts dealers. Often, these dealers stock original parts you can use for your car. And since they're used, they're usually much cheaper than buying new parts.
When shopping for used car spare parts, it's important to inspect them carefully to make sure they're in good condition. You don't want to end up with a damaged part or one that doesn't fit properly. It's also a good idea to ask the seller for pictures of the part installed on the car so you can see what it'll look like.
With a little effort, you can easily find the perfect spare parts and accessories to make your car look cool and unique. So get out there and start shopping!
8. Custom Paint Job
There are many services and accessories to make your car look cool, but one of the best things you can do is get a custom paint job. This can make your car stand out from the crowd and is a great way to express your personality.
A custom paint job can also help you protect your car's original paint job. This is because it gives an extra layer of protection against the elements and other wear and tear. Plus, according to the New York Times, your car's paint job is crucial to its resale value.
You've probably seen your favorite celebrity driving a golden car, and the appeal left you in awe. Did you love it? It's time you got a custom color matching your football team's or your favorite color. You can rest assured your vehicle will look cool. If you're looking for a custom paint job that'll make your car stand out, there're a few things you need to keep in mind:
You'll need to choose a reputable auto paint shop with experience in this type of work.
You'll need to decide on a design you love.
Be prepared to spend some money.
But if you're willing to do the work, a custom paint job is an excellent way to make your car look cool.
9. A Shiny Hull
A new paint job can make any car look cool, but a shiny hull is the key to making any car look amazing. Whether you're driving an old beater or a brand-new luxury car, a trip to the car wash can make it look like a million bucks.
Sure, you could wash your car at home with a hose and soap, but where's the fun? Car washes are an experience, and they can even be therapeutic. There's something about seeing your car go through the automated wash cycle that feels good!
And if you really want to make your car look cool, you can opt for some of the more premium car wash services, including things like waxing and polishing. These services will make your car's paint look shinier and help protect it from the elements.
So next time you're feeling low, treat yourself to a trip to the car wash. Your car will look amazing, and you'll feel great, too.
10. Tinted Windows
Tinted windows are a must when it comes to services and accessories to make your car look cool. Tinted windows give your car a sleek and sophisticated look. A ResearchGate study has shown that they also help keep your cabin interior cool.
If you want to add some tint to your windows, you should keep a few things in mind. First, ensure that you look for a reputable company to do the work. There're a lot of fly-by-night operations out there that'll do a bad job, so it's important to find a company with a good reputation.
Second, be sure to get the right type of tint for your car. There're a few different options, so you'll want to ensure you get the right one for your needs. Finally, make sure you follow the law. In most states, there are strict laws about how dark your tint can be. Check the laws in your state before you have your windows tinted.
With these tips, you'll be sure to have cool-looking tinted windows that'll help keep your car's interior cool.
Bottom Line
Car customization and personalization is truly an art form. Whether you're trying to make a statement or want your ride to look its best, there're plenty of services and accessories to make your car look cool. From paint jobs and tinted windows to camping trailers and custom wheels, the sky's the limit when making your car look awesome.
Of course, no matter how cool your car looks, it won't matter if you don't have the right attitude to go along with it. So make sure you've got the right attitude and accessories to make your car look cool, and you'll be sure to turn heads when driving around!