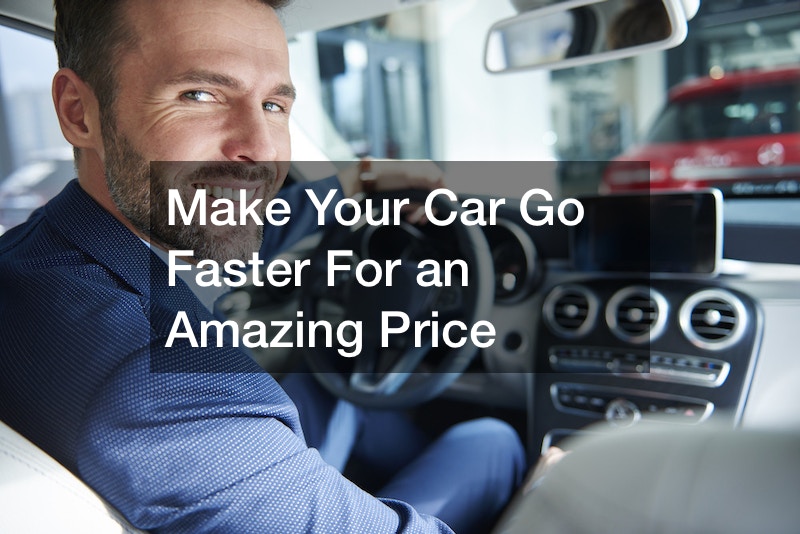 Are you fed up with the slow speed of your car? You can make your car go faster for an amazing price through a few decisions and vehicle amendments. Try these top ten tips to improve your vehicle's speed.
Fund Your Race Car Project
Your car should be fast if you plan to use it exclusively for racing. However, you will need money to fund the right amendments to increase its speed and make it more effective for car racing. If you lack enough money to improve the speed of your car for the racing project, you can opt for available funding options.
Many financial institutions offer auto loans to car owners with flexible repayment options. You only need to find the ideal lender offering the amount you need for your race car project.
There are two main types of car loans: secured and unsecured. In secured loans, your lender will use your vehicle as collateral or ask for any other valuable asset, like a house or another vehicle, as collateral. In an unsecured loan, your lender may not ask for collateral but might require a cosigner. However, a lender will evaluate the condition of your car and give you a loan based on its value and what you need to buy.
If you need more money to improve the performance of your car racing vehicle, find a reliable lender today, understand the lending terms and get the loan. You can make your car go faster at an amazing price, especially if your lender offers favorable lending conditions.
Make Sure Your Brakes Are New
The condition of your car brakes significantly impacts the overall car speed. If the brakes are old, chances are you will spend much time trying to work on them, and you will even be afraid of driving fast because the braking system is old and can fail.
If you need your car to drive faster, upgrade your braking systems so you can comfortably increase the speed. Common signs that you should upgrade your brakes include:
Excessive vibration when using the brakes
Your car takes a long to stop after hitting the brakes
Thin brake pads
Visible wear and tear on the brakes
Insensitive brakes
Your car needs new brakes if it's more than a decade old and you have never changed the brakes. If your car is very slow and you suspect old brakes could be the problem, visit your nearest brake repair shops for assistance and guidance. A car technician will examine your car and help you install new brakes.
When installed well, a new braking system will make it easier for you to drive faster. Most importantly, you will avoid accidents caused by failed brakes and enjoy an improved speed at an amazing price. Remember to inspect the performance of your brakes regularly to ensure they are in excellent condition.
Get Good Insurance
Car insurance is a mandatory law requirement for every vehicle owner. It is also an incredible requirement if you would like to make your car go faster for an amazing price. When you have comprehensive insurance for your vehicle, you will be at peace that your insurer will help cover some liabilities in case an accident causes damages or injuries.
While having insurance is not an excuse for reckless driving, it is a step ahead when you intend to improve your vehicle speed. Nowadays, car owners have many insurance options, and you can get the right insurance for your vehicle needs if you are willing. Find an auto insurance agent to explain the options and payment terms and conditions.
The ideal car insurance may help protect you, your passengers, family members and other drivers. If you get into an accident, the insurance will help cover the liability expenses if you are found at fault.
The basic types of auto insurance coverage that you can consider include the following:
Liability insurance
Collision insurance
Comprehensive insurance
Compare the packages and quotes from auto insurance providers and choose the most appropriate for your vehicle.
Get a Professionals Help
Owning a car comes with the responsibility of maintaining it well. If your car has become excessively slow, you may need professional help servicing it to ensure all parts are in excellent working condition. While you can do the small checkups and repairs independently, an expert can do it better because they have the tools and skills needed.
Here are a few benefits of professional car repair and maintenance:
A professional repair technician can identify and stop a problem before it worsens
Car repair technicians are experienced and can improve the performance of your car to as good as new
You can learn more do's and don'ts about your car by simply talking to the car repair experts
You will save time on the repair process because the experts are skilled
You will save money that you could have potentially used to buy new replacement parts
Car preventative maintenance can improve your safety when driving and increase the lifespan of your vehicle. If your car is slow and you don't know what to do alone, seek professional help to improve its speed for an amazing price. Most mechanics offer favorable rates and can help you highlight problems slowing down your car.
Use Recycled Parts
Recycled parts are cheaper than new ones. If you are not in a position to buy new ones, go for recycled parts because they are more affordable and will serve the same purpose as the new ones.
The idea of using recycled parts applies in cases where some parts of your car are old and worn out, hence the slow speed. There are many recycled car parts that you can utilize to improve the speed of your vehicle at an amazing price. Common parts that you can get in a metal recycling service include oil filters, engines, batteries and even tires.
If you want to use recycled parts for your car, consider these helpful tips for the best results.
Plan where to buy: You can buy in your nearest auto repair shop or online platforms like eBay and Craigslist. Research is important when deciding where to buy to get a credible dealer
Part number: Find the exact car part number you need to avoid buying the wrong one
Price: The overall cost of a recycled product should be less than that of a new one. Compare quotes to avoid paying more than what you should
Recycled car parts are cheap and can greatly improve the speed of your car. Find a good dealer and get the parts you need to make your car faster for an amazing price.
Ownership of Vehicle
Is the car you drive registered under your name? Do you own it? One sure way to make your car move faster for an amazing price is to register it under your name, so you will be comfortable driving. If you bought it on the secondary market and haven't completed the transfer process, do so today to gain full control over the vehicle.
The transfer process is quite easy when you have the entire documents; you can work with a title company to facilitate the process. You will need the transfer process in any of the following situations:
Normal vehicle sale
Death of the original vehicle owner
Buying a vehicle from a public auction
Get all required documents to complete the vehicle transfer process and become the legal owner. The process can be physical or online, but you should involve witnesses for future reference.
Get New Tires
If your car is old or it's been a long since you upgraded the tires, visit your trusted tire shop for new ones. The cost of acquiring new tires is quite low compared to the benefits you will enjoy, like smooth and faster rides.
Should you get new tires? Check out these five signs that your tires are worn-out:
Visible cracks on the sidewalls
Visible blisters and budges on the tires
Uneven tire tread
Frequent issues with the tire pressure
Excess noise/vibrations when driving
Old tires not only make your car slow but are also a threat to your safety when driving. New tires guarantee more safety, and you can have a smoother driving experience, especially if the other parts of your vehicle are in excellent condition. New tires also improve traction when driving and make it easier for you to drive for long trips with minimal issues.
When buying a new tire for your car, consider the age and current condition, tread depth and pressure. Purchase them from a reputable store to avoid getting a low-quality product. New tires will improve the overall look of your car and enhance the speed at an amazing price.
Consider a Trailer
You might consider getting a trailer if you need your vehicle to go faster for an amazing price. A well-maintained trailer moves quickly and also guarantees a very smooth ride. If your budget is tight, consider getting a second-hand trailer, inspect it and maintain it well to improve its speed. Inspection is mandatory to ensure all trailer parts are in excellent working condition.
The first step to improving the speed and performance of your trailer is to upgrade the wheels. There are many trailer tire and wheels companies with great offers and discounts, and you can get the best quality wheel for your trailer. Once you upgrade your wheels. You can try these other tips to improve the performance of your trailer for an amazing price:
Adhere to the right loading capacity of your trailer to avoid overloading troubles
Conduct a trip inspection to confirm all parts of your trailer are intact
Keep the wheels well lubricated to prevent wear and tear
Regularly check the tire inflation to ensure there are no inflation issues that could affect your trip
Find an experienced and reputable mechanic to be attending your trailer
Partner with your local vehicle dealer and manufacturer to help you create the best plan for your vehicle. If you are traveling for long trips, your dealer may offer useful tips on improving the overall trailer performance.
Accidents May Happen
Accidents are a sad life reality that can happen at any time. As a car owner, you ought to know what to do in case of an accident, even as you still observe the right precautionary measures. If you would like your car to move faster, you should also know that overspeeding is a common cause of accidents. So, what do you do if you are involved in an accident?
The first step should be to inform your lawyer, who can give you more directions on what to do. Personal injury lawyers can help you with the legal proceedings as you concentrate on your well-being after the accident. Once you inform your lawyer, you should gather accident evidence by taking photos and videos and talking to witnesses.
If you are injured, visit your nearest healthcare facility for immediate medical attention and be sure to keep all records. Talk to your insurance company so that you can initiate the claim application process immediately.
No one wishes to be involved in an accident, but knowing what to do when such an unfortunate event happens is a great idea.
Recover and Get Back on the Road
If you are involved in an auto accident, your insurance company may offer compensation if your claims application is successful. The compensation may include paying for your auto accident injury treatment and repairing your damaged car. However, it's still important for you to recover fully, so you should give yourself time before returning to the road.
Here are a few tips to help you recover faster after being involved in a road accident;
Take plenty of fluids to keep your body hydrated
Avoid vigorous physical activities like heavy weightlifting
Visit a physical therapist for massage and other muscle-relaxing techniques
Get enough rest
Take a balanced diet
Follow your doctor's advice regarding hospital checkups and taking medications
Start light exercising like walking and stretching
Auto accident injuries can be stressful when they are severe. However, you can recover and return to driving quickly if you observe the above tips. You should also be mentally healed even when you have no physical injuries/scars. If you feel emotionally drained after an accident, avoid isolating yourself, and find a counselor for advice and comfort. Lastly, ensure your vehicle is in excellent condition before hitting the roads again.
Final Remarks
Every vehicle has different modification features according to its type. However, some changes are general, and you can always improve your vehicle's performance despite its make. The above tips will help your car go faster affordably.